We know that cooking at home after a long day at work can be a challenge, so here are some solid recipes that you can make in a flash without skimping on taste.
Turkey burgers can be tricky. Sure, ground turkey is lean and healthy, but it has a tendency to be dry and bland-tasting. The herbs and peanut butter sauce really pack a delightful flavor and creamy texture to keep your burger flavorful and juicy.
It sounds a little weird at first, but you can totally turn lasagna into your favorite food by swapping out the ingredients to match your theme. In this case, bacon, eggs, hash browns and cheddar cheese work like a dream to give you an easy, tasty breakfast for dinner.
This recipe is super easy and a great one to prep in advance. The versatile chermoula marinade is a great one to make a double batch of and store for another dinner. Besides chicken, it also goes great with lamb and salmon.
Salads are versatile, and you can totally swap out any elements of this one. We love using poppy seed salad dressing (recipe here), substituting the romaine for baby spinach, and topping with a few almond slivers.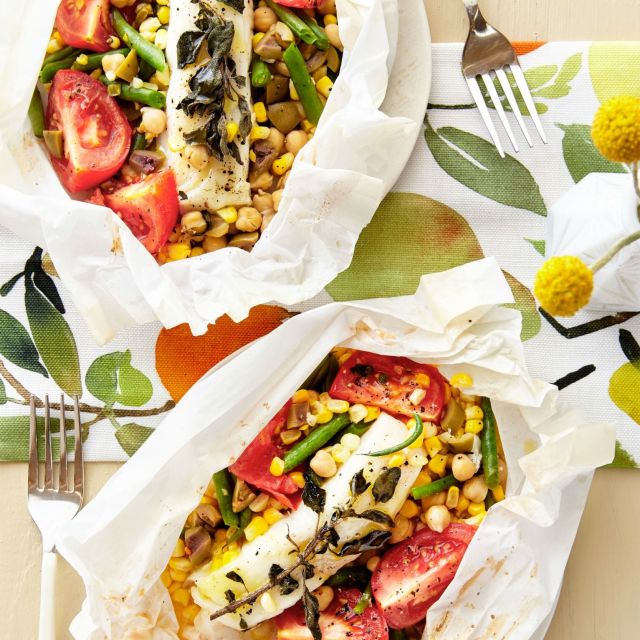 These fresh, tasty fish packets are quick and easy to make, and cleanup is minimal.
All you need are five ingredients and one skillet to make this dish, but everyone will think you spent hours on it. If you're into making your own pasta and want to go above and beyond, try it with this amazing tortellini recipe.
Don't be afraid of Brussels sprouts! They are super delicious if you slice them thin and cook them right, and this recipe is pretty foolproof for that. The rich sweet and savory pancetta (feel free to use bacon instead if you can't get pancetta) and caramelized onions perfectly balance the Brussels sprouts. Bonus: throw a fried egg on top of each serving if you are so inclined.